Phase 1: Initiating Therapy – The decongestion phase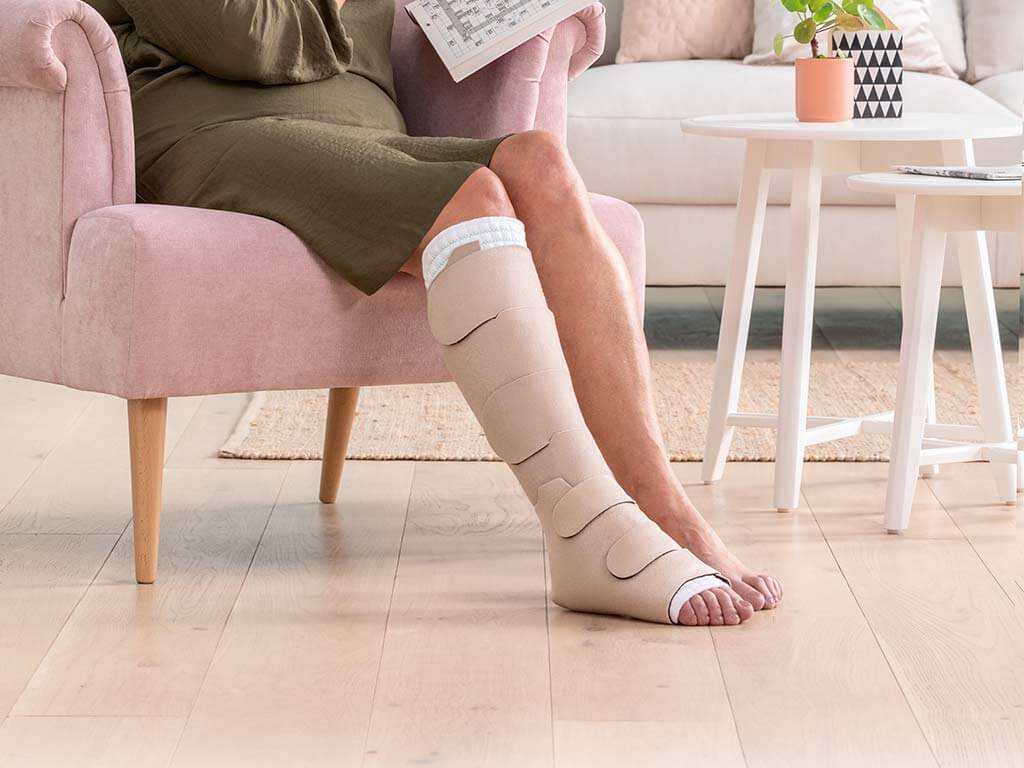 Medical Adaptive Compression Systems
Due to the frequent fluctuations in circumference at the beginning of therapy, a medical adaptive compression system (MAC) is used, ideally Compression Wrap. It is essential to carefully cover the wound before application. These products are easy to apply and can be individually adjusted using adjustable Velcro straps, making them ideal for self-therapy. The short-stretch properties of this compression system provide low resting pressure and high working pressure. Depending on comorbidities and vascular condition of the leg, the ACS Light may be used as an alternative to the Compression Wrap.
Self-Bandaging
Compression Wrap
Thanks to its highly short-stretch properties, the Compression Wrap provides a high working pressure and low resting pressure. With its double-sided Velcro closures and helpful grip zones, it is easy to apply and can be ideally adjusted to fluctuating body circumferences. The special notches on the flaps allow for a seamless closure, preventing window edema. The special feature: The color can be reversed from beige to black according to the patient's preference.
Variable compression pressure from 30 – 60 mmHg

High working pressure and low resting pressure

Individually adjustable to accommodate fluctuating leg circumferences

Special notches ensure optimal overlap of the flaps, preventing the formation of window edema.
Alternative treatment
ACS LIGHT
Depending on the underlying conditions and vascular situation in the leg, it may be necessary to use a product with a lower compression effect. In such cases, the ACS Light is used as an alternative to the Compression Wrap. The individual segments are easy to apply and can be adjusted to accommodate fluctuating body circumferences during wear. The inner calf segment features an integrated adhesive band to ensure a secure fit at all times. The incorporated fixation aid facilitates proper application. Lastly, the comfortable material enhances treatment adherence and supports patients in self-therapy.
Compression pressure adjustable flexibly up to 40 mmHg

Adjustable during wear for optimal compression

Comfortable material provides high wearing comfort and can increase treatment compliance

Various accessories available

Disinfection and cleaning possible
Padding for MAC or PCV
SoftCompress
SoftCompress significantly enhances the success of decongestive therapy with medical adaptive compression systems (MAC). In the case of phlebological compression bandages (PCV), padding can also prevent pressure sores and skin damage, promoting quality of life.
In contrast to commonly used synthetic materials, these products feature a particularly skin-friendly cotton surface. This enables pleasant wearing comfort for the patient. The vertical foam channels create a unique surface structure that supports edema reduction.
The thin, flexible SoftCompress compression bandages generate compression pressure when properly applied. These bandages evenly distribute the pressure from additional short-stretch bandages applied over them, thus preventing constriction.
The comfortable bandage aids can be worn under short-stretch bandages or medical adaptive compression systems (ACS Light or Compression Wrap), providing additional compression, padding, and optimal pressure distribution.
SoftCompress complete sets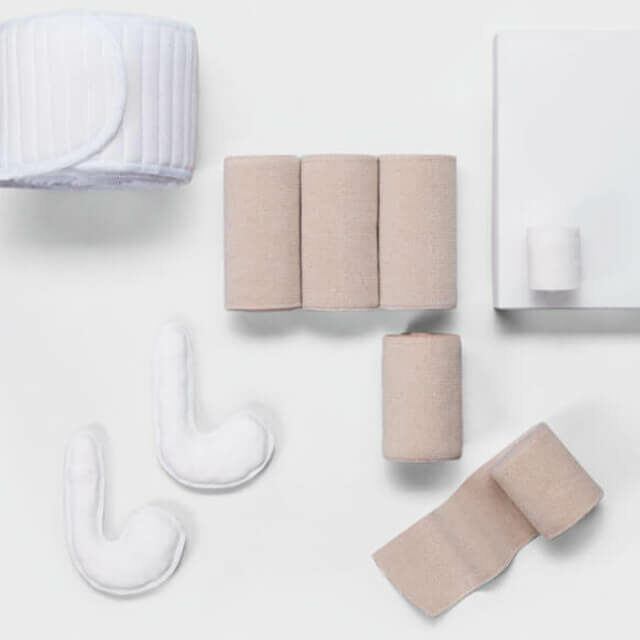 with bandage aids and compression bandages
SoftCompress products are also available as practical complete sets with bandage aids, compression bandages and pads for compression and wound care.